Browsing the Internet one night I stumbled upon this
Vogue Beauty article
describing the top ten French Pharmacy Beauty Products, and before I knew it I was placing an order. How did that happen?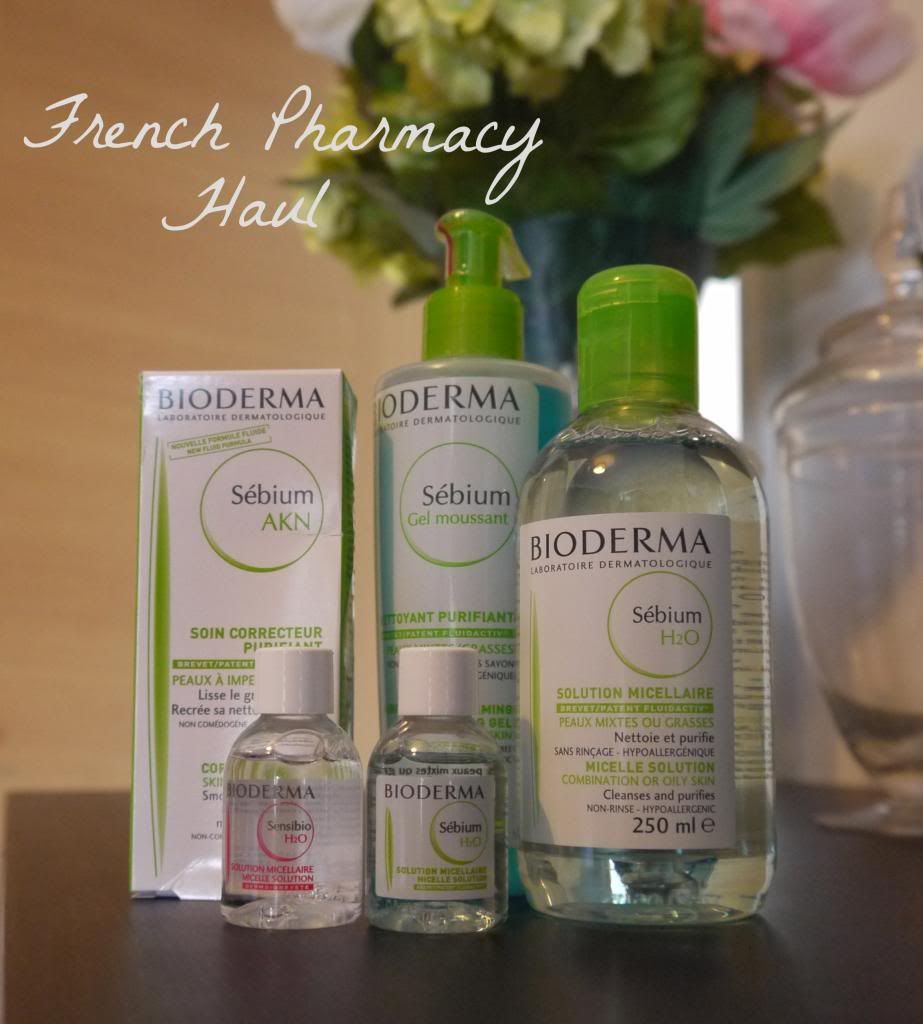 Now I would not be able to call this a French pharmacy haul with out including this item....
Tah Da!
This product I am sure needs no introduction. I have put off purchasing the Micellar water cleanser for so long thinking I would pick up a bottle or two next time we pop over to France, but we just haven't found the time! maybe I should knuckle down plan a trip before Christmas? So I finally caved and ordered online, thinking that if I like it, I will purchase more from Paris.
I opted for the Subium H2O formula for combination to oily skin as its non-comedogenic (doesn't block your pores). and contains Bioderma's Fluidactiv, a sebum correcting patented complex.
The estore that I purchased from were also generous enough to include two free samples of the Bioderma Micellar in the original Sensibo and the Sebium so I get to try out both to see which I prefer. I have only tried the Sebium so far, but I think I will stick with it.
Bioderma Sebium Foaming Gel
.
I chose this to primarily use in the shower, its gentle, has a soap free formula, can be used on face and body and again contains Bioderma's Fluidactiv sebum correcting formula.
Bioderma Sebium AKN.
I was just interested in this product, so added it to my shopping bag thinking "What do I have to loose?" and it has turned out to be the star product! Again the product claims to be sebo-regulating and purifying to leave your skin clear of imperfections. Its a wonderful light cream that is non-oily, I've been using it twice daily and have noticed a massive difference in my skin tone, my pores appear smaller and I have had less blemishes and my skin is smooth and soft. This product gets a massive thumbs up from me, I don't know how i lived without it before.
Caudalie Lip Conditioner.
Last but not least I caved and got this product. I have wanted to try a few things from Caudalie for a while, but again have been putting it off. But everyone, and I mean everyone has been raving about the lip conditioner, and I'm a sucker for lip balms! I paid around the £5 mark for this. THE BEST £5 I HAVE SPENT IN A LONG TIME. Next time I place an order for this I will be getting 3 tubes, such a great staple product and I can feel the conditioning benefits of this lip balm hours after application.
So that's mon petit French pharmacy Haul.
Have you tried out any of these products? are there any others that I haven't mentioned here worth trying?
xoxo