I have always been intrigued by the EOS lip balms ... you know the ones that every American blogger is talking about... the little spherical lip balms with twist off lids that look like eggs. That aren't available in the UK.
So when I saw that they were dong an Alice in Wonderland LE Trio I wanted to get it so bad! being the massive Disney nerd that I am.
Isn't the packaging just the cutest thing?!
Love the little hidden Mickey!
These retail for $9.49 on the
EOS online shop
but they charge $15.00 shipping!! so I took to ebay and they arrived this morning. Yay! (good timing as the weather is starting to take effect on my skin).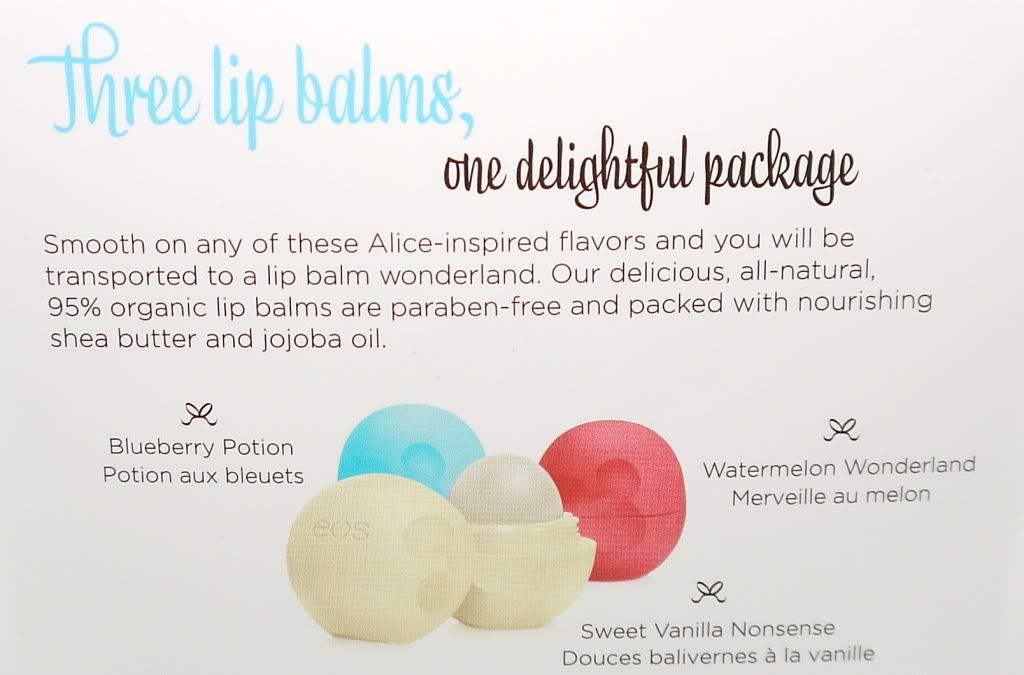 There are three flavours all themed around Alice in Wonderland :
Blueberry Potion,
Sweet Vanilla Nonsense,
and Watermelon Wonderland.
All are 100% natural, 95% organic, paraben-free, gluten-free, patrolatum-free, phthalate-free, full of antioxidant rich vitamin E, shea butter and jojoba oil. OK, I'll admit I didn't know what the hell
phthalates
were or why they were bad for us, but the more chemicals that can be eliminated from my daily routine the better!
The scents seem a little fake to me, in particular the vanilla and the blueberry, they smell much too sweet, but once applied to the lips the scent fades and isn't overpowering at all. They taste good too! and are very moisturising and smooth.
These would make such cute little gifts or stocking stuffers for any girl or Disney nerd, infact I think I am going to place another order so I can gift a few to friends and family :)
Have you tried EOS lip balms yet?
Now if only I could get my hands on Sephora's Cinderella collection items ....