I was really excited to see a new nail polish display while shopping in my local Boots last month (I haven't blogged in a while! oops). I was even more excited when I saw the Sinful Colors bottles, and in particular this colour ....
This is Sinful Colors Cinderella, this little beaut caused quite a stir between US bbloggers last year, and is a polish I could only wish I would some day own, so when I saw it sat on the shelf (there were only two left)! I snatched it and ran to the checkout. I was in such a rush I didn't even stop to see what other colours could have lurked there. So silly of me!
On first inspection the colour reminded me of a Revlon polish released last year named Blue Lagoon, that I skipped on. I loved the colour, but having purchased the yellow first (Sunshine Sparkle), with which I experienced severe bubbling, no matter what top coat I used or how long I allowed the polish to dry in between coats, it really put me off Revlon. But Cinderella's glitter is a little different, its not straight up glitter, or shimmer, its not flakies neither, the best way to describe it is flecks, small flecks of pinky-orange glitter as apposed the the shimmer in Blue Lagoon. I can see why this polish was so popular across the pond.
The formula is thick but runny, I know thats an oxymoron, but if you have tried this polish then you will know what I mean. The polish wants to be gloopy, but then it will start to run off the nail into your cuticles. Sinful Colors = flooded cuticles, but for just £1.99 who cares about that? I recommend thin coats to build up the colour gradually, this is 4 thin coats.
As you can see my bottle is unfortunatly defunktive, the brush hasn't been finished properly which caused me difficulty when applying the polish. It also shed quite a bit during the application. I've never had this happen to me before so I don't really know what to do. Whats acceptable in this situation? I like the colour so I don't really want to return it, but this brush is useless to me.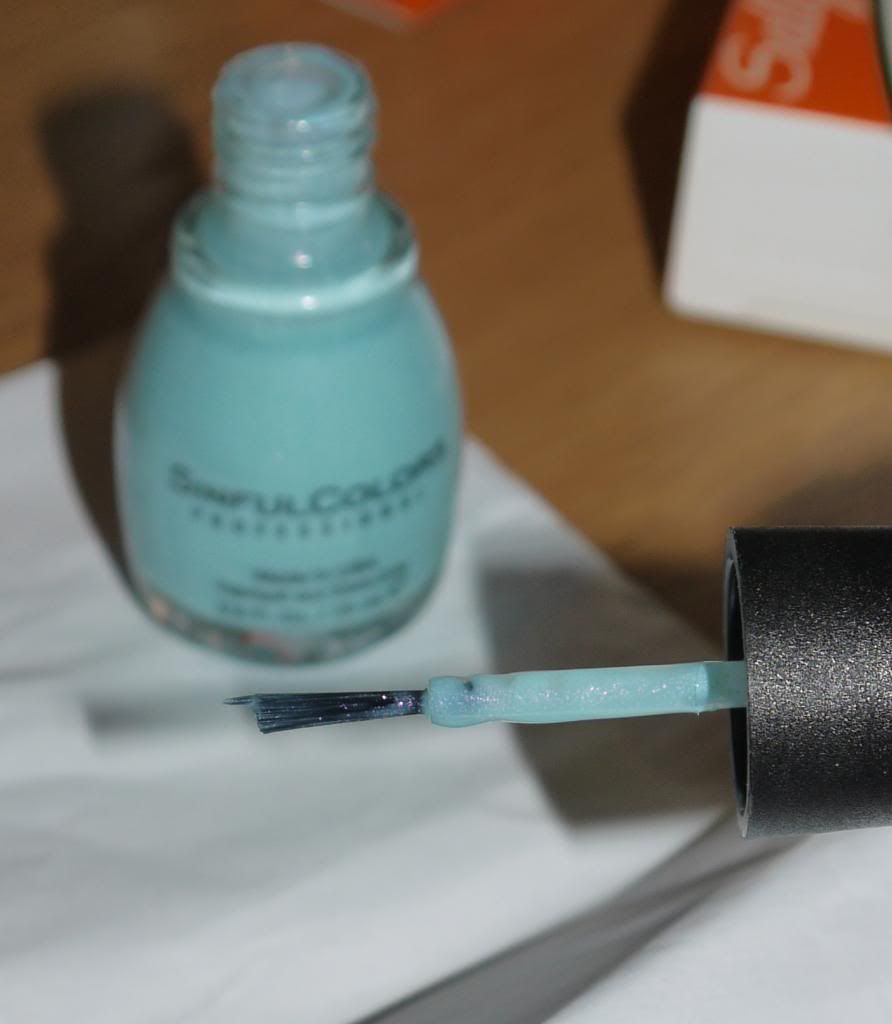 Have you tried Sinful Colors yet? what shades do you recommend?
xoxo