Todays post consist of a very small Clinique Haul. I had a gift voucher, that doubled with Debenhams 10% off Beauty event led to this.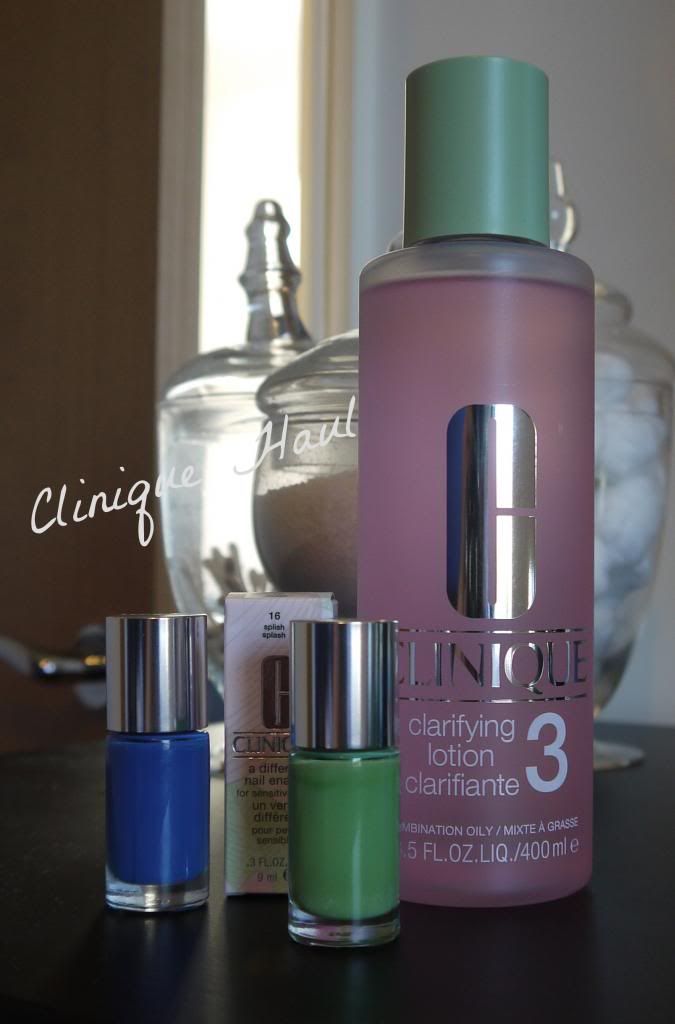 Lets get the boring part out of the way first...
This product was the sole reason I went to the Clinique counter. I had run out of my toner about a week before and it had left a void in my skin care routine, so I was in the market. I have long been an advocate of the Clinique Three Step Skincare System since I started using it probably three years ago, I think simple is best and I like to keep in a routine. So when I heard that Debenhams had 10% off I hot stepped down to the counter and picked up the biggest bottle of toner I could find.
Thats when I should have walked away ... but I didn't.
I discovered the display of the new A Different Nail Enamels. You know we are in dangerous territory now!
I had been eyeing Splish Splash online for a few days since the release. So I had a feeling I would be purchasing that one, some how I ended up with Hula Skirt too, how did that happen? I don't know!
Splish Slash
is a gorgeous, bright, cobalt blue colours a la Beyonce/Nails Inc Baker Street. Which I thought I had nothing like in my collection, low and behold, not only do I have one polish identical, I have two!! oh my.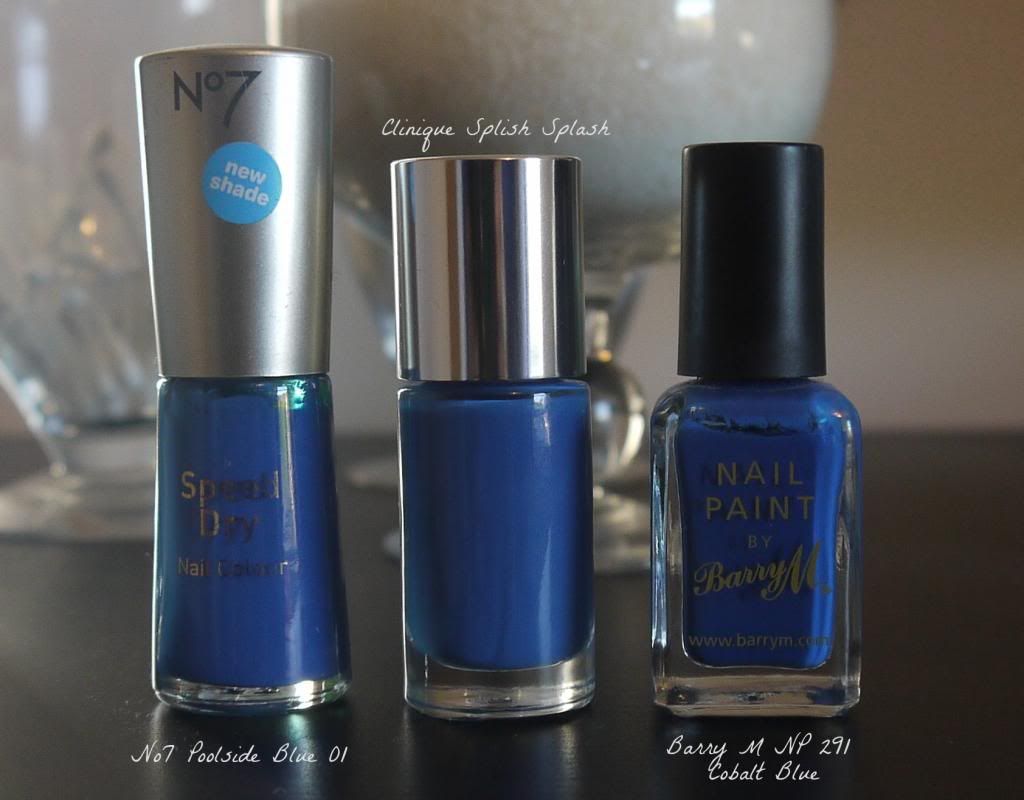 This is No7 Speed dry nail colour in Poolside Blue 01. I don't know if this shade is still available due to the recent reformulation of the entire No7 brand, but the second is most defiantly still available.
Barry M nail paint in Cobalt Blue 291
. As you can see, in the bottles they all look IDENTICAL! bummer.
Hula Skirt
however I was on the fence about, do I need a bright green polish? do I have something similar to it. But I caved and bought it anyway.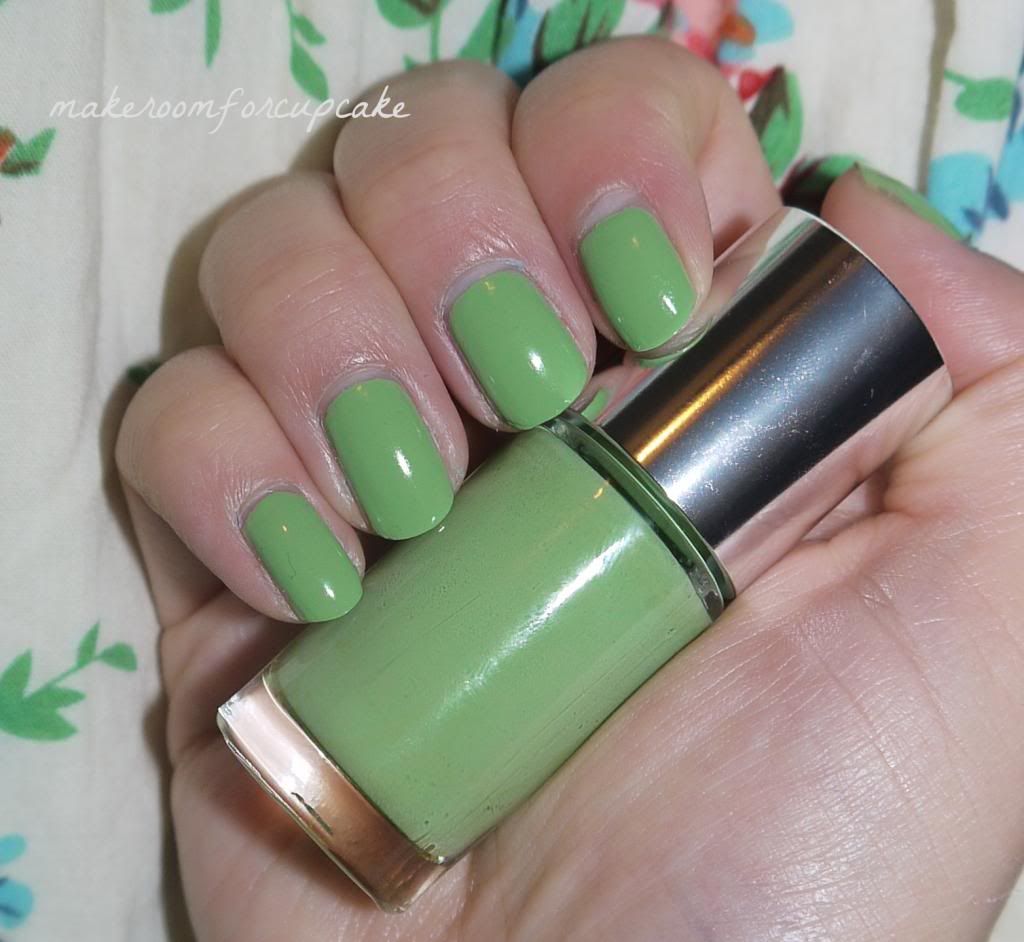 I would describe it as a light spring green. I did find one similar colour in my stash in the form of Essie
Mojito Madness
. MM is considerably darker in colour and more of a grassy green than Hula Skirt.
The formula is rather interesting on these, its very thick, which is a good thing as they are practically opaque in one coat. However if you do want to apply that all important (if your OCD like me) second coat, the polish almost drags off your nail, much like GOSH Holographic. Maybe they are intended as one coaters and thats why? have you experienced the same thing? Either way they are both beautiful spring/summer colours that I know I will get plenty of wear out of.
So thats my haul :)
Have you tried any of the new Clinique Different nail Enamels? which colours do you recommend?
Next on my shopping list is probably Concrete Jungle.
xoxo