The June Glossy Box was a massive disappointment and for that reason I have left blogging about it until now.
Entitled Get Summer Ready! the boxes contents were chosen to get us confident for the "skin-baring months ahead." were not all hussys Glossybox!
here are the products I received ...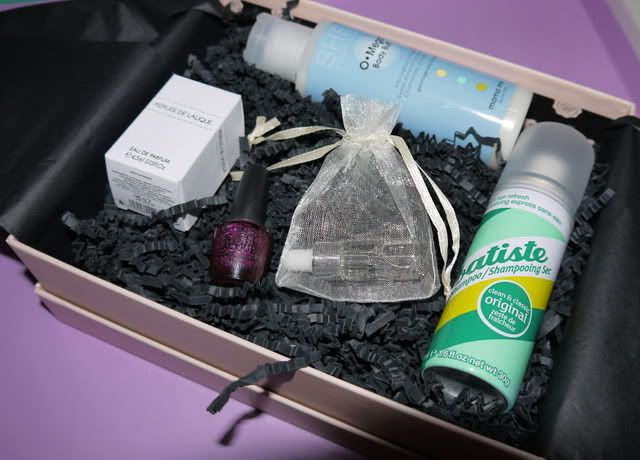 OPI Designer Series mini nail lacquer in Extravagance
If it wasn't for the fact that I already own this product in full size, I probably would have been over the moon to receive a sample of OPI! ... well maybe not over the moon, but fairly happy.
My main problem with the OPI minis is that they do not come with the pro wide brush, which is my reason for favouring OPI over other brands such as Essie or China Glaze.
The colour itself is very pretty (the reason why I bought the full size back in October last year). A fantastic magenta with holo glitter that OPI's Designer series is famous for. But not really a summer colour, I love wearing this shade in fall, something I will continue doing.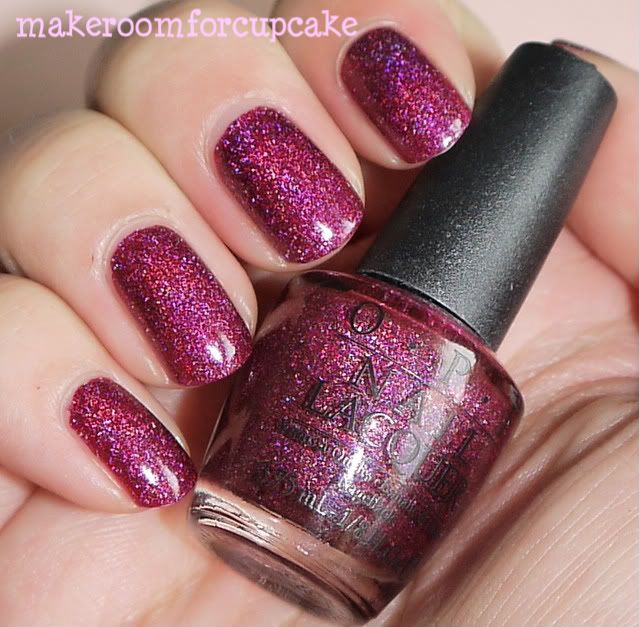 Bioeffect EGF Serum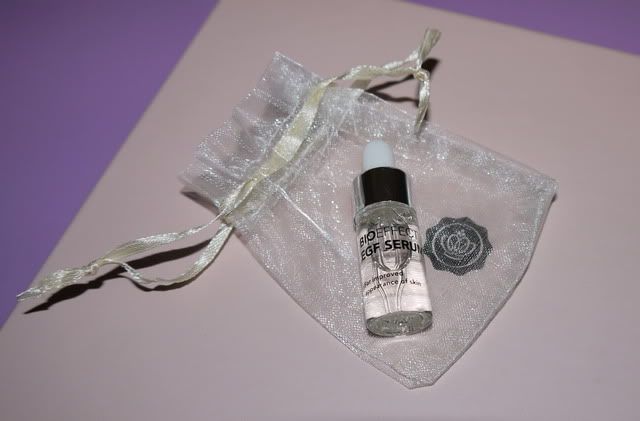 Supposed to be Iceland's best kept beauty secret, this beauty serum claims to stimulate growth of new skin cells for an younger looking complexion.
I have only tried this once so far, so will report back.
Batiste Original and Mama Mio Omega Body Buff
Lets talk for a minute about Batiste, we have all seen this product on the shelves of Superdrug, boots and probably Savers, so whats high end/luxury about a product that is so readily available and a priced at an affordable £2-£3?
Glossy box have replied to concerns voiced by followers on facebook about the inclusion of this product, claiming they believe this to be the best dry shampoo on the market. Be that as it may, but we signed up for Luxury and High End product samples, not something the Glossy Box team deems a worthy high street product.
Back to the product, personally I do not understand a need for a dry shampoo, if your hair is dirty or greasy you wash it, there is no substitute for shampoo. and having dark brown hair I would never dream of putting talc or anything white on my roots unless I wanted to look like I was going grey, so Batiste is one product I have never reached for.
After receiving this product sample in my June Glossy Box I thought what the hell, and tried it one morning before washing my hair, my expectations were correct ... Grey hair!! disaster! and even though the product smells clean and fresh, just 5 mins later my hair felt dirty and greasy again yuk!
The
Mama Mio
I haven't tried yet :(
Lalique Perles de Lalique perfume
I haven't really worn this, I don't hate it but don't really care for it. Its quite clean smelling but a bit grandma-ish :( maybe I will give it to my mum! haha
Then Glossy Box dropped this bombshell on all of us subbed
...
Dear Makeroomforcupcake,
First of all, may we take this opportunity to thank you for subscribing to GlossyBox! While we spotted a gap in the market for a high-end and niche beauty box, we never would have dreamed of such enthusiastic and loyal demand for it.
Thank you!
Since we are a very young and growing company, it is important to us to communicate clearly with our customers what GlossyBox is about, where we're going and any changes we are making.
GlossyBox aims to be the answer for the woman who feels overwhelmed by ads, paid-for editorials and advice in her quest to be fashionably groomed.
We help you stay on top of what is new and what works in all things Beauty.
We are working hard on the mechanics behind customizing the contents of your box - please bear with us, while we improve the beauty profile. Of course, we will notify you as soon as it is live on the GlossyBox.co.uk website.
In order to help you make that leap of faith and subscribe to GlossyBox, we offered free shipping for the first four months – May, June, July and August.
One of the upcoming changes that will affect you all is that from September onwards, we will be charging a flat fee of £2.95 for shipping.
GlossyBox will still be £10 a month, shipping will be £2.95, the total amount charged will be £12.95 and as always, you may cancel anytime.
To clarify: July and August boxes will be £10 with free shipping.
Exciting news for the coming months is that we are in the process of creating unique, original and collectable cards to be included in your monthly GlossyBox. The GlossyLooks cards will be easy-to-follow How-To's on the biggest looks for the current season as well as important and timeless styles like Smokey Eyes.
Another milestone for us is the imminent re-launch of GlossyBox.co.uk!
We hope you'll enjoy browsing the new website and the soon-to-be live GlossyBook – our own online magazine - dedicated to the contents of the monthly box and of course jam-packed with the newest trends and video manuals.
In the meantime, I hope you're as excited as we are about the arrival of the next GlossyBox!
With thanks we remain faithfully yours,
The GlossyBox Team
hmmmm .... I'm not very impressed by this, as far as we were all aware we were signing up for a £10 a month subscription and Glossy Box wants more money. I think I am going to look into
Boudoir Prive
and maybe switched to them.
Secondly I am very unimpressed with the GlossyBox website, Glossy dots, and the questionnaire to Tailor my Glossy boxes. if anyone knows how to keep track of my Glossydots or how to re-do my questionnaire please let me know!
What did you get in your June Glossy Box? are you going to stay subscribed?
xoxo