Ever since the Queen wore this lemon ensemble to the Royal Wedding, lemon prints have been popping up everywhere, even on the runway.
We have been staying in the city this weekend for my Dad's Birthday, so naturally we hit the shops so now I have my very own cute lemon outfit!
lets start with my lemon print dress ...
There have been plenty of these lemon print dresses about this season, I know Dorothy Perkins have a about 4 of their own, but as soon as I saw this one in
Debenhams
I knew it was for me. It is the perfect combination on my favourite colour and this seasons "it" print wrapped up in a beautiful fifties style. I had been longing for this dress for about a month now, but didn't really want to pay the nearly £40 price tag. So snapped it up when I found it reduced to just over £26!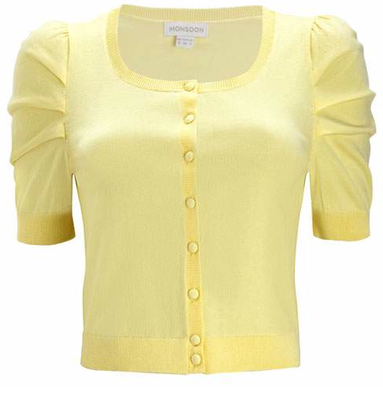 Monsoon Fifties Style Lemon Cardigan
OK so it might be overkill on the fifties style but I just love this cardigan, the detail on the sleeves, the neckline and the cute buttons. I'm thinking this will be perfect to throw on over the dress of an evening while on holiday in Italy!! so excited!
I will probably team this outfit just with a pair of simple studs (no neaklace due to the high neaklines) like the turquoise and silver ones from my
Accessorize Haul
.
Now all I need to find is the perfect mani and pedi colours :) I'm sure that will be a fun hobby for me over the coming weeks.
While browsing
Dorothy Perkins
website this evening I came across this cute little bag in a soft lemon colour, I have had my eye on the coral version of this bag for some time now, the material is unbelievably soft for a synthetic bag and very affordable. Maybe I will get both colours when I pop in to get this ....
Lemon bag also from
Dorothy Perkins
reduced in the sale to just £5. It may well become a lunch break treat to get me through Monday :)
Now onto a dilemma
I had seen these wedges on the
DP
and made a mental note that I MUST! try them on if I ever saw them in store. They are made in so many fabulous colours and I would love to collect them all ... cobalt blue, coral, cream, and yellow.
Until I stumbled across a pair of the cream ones in an outlet in a supermarket Triumph!! or so I thought ... the fit is terrible! the straps are too wide so my foot moves about and in that size heel I do NOT want to be falling over!
So do I go for beautiful colours to match every outfit or practical and comfy?
These
Hush Puppies
are currently on sale for only £35 bargain!
Which would you choose?