No More Waity Katie from Butter London is their limited edition polish in celebration of this years upcoming royal wedding. Which claims to "transform nails with the perfect amount of sparkle for a royal touch."
The colour is gorgeous, describe on the website as "
a soft, elegant greige shade with a splash of lilac glitter for the perfect marriage to combine fashion and fun." and that's
exactly
what it is!
lilac glitter in a sheer grungy lilac base.
Shall we take a look?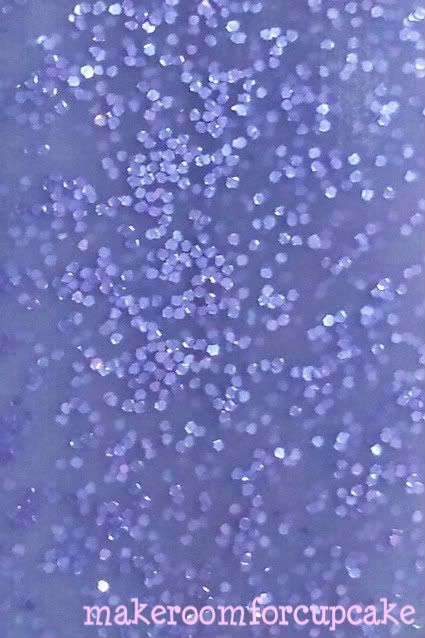 The square cap lifts off to reveal a small round handle, a bit like
Illamasqua
polishes, which makes for easier application. Although I do find the handle a little short and stubby.
The Brush itself is also quite small, think even smaller than a Sinful Colours brush and probably about half the size of OPI or China Glaze. Great for small nails! but it did make application take a little longer as I had to keep going back over areas I had missed at the side of the nail.
Application was OK, this is 2 coats of NMWK, giving a fairly even semi-opaque colour on the nail and with a top coat it feels smooth and not gritty like some glitter polishes.

To me the base colour appears a little darker on my nails than in the bottle and the glitter is more toned down, personally I wish it shined through a little more. As in the bottle its pure princess, shimmering and beautiful, purple being the colour traditionally worn by royalty or nobility due to the dye
only being affordable to the elite. So what better colour to
commemorate the Royal wedding? (and its wayyyy better that the normal tea towels and cups we normally get)!!!


and a close up of on the nail


I bought mine from
bathandunwind.com
and paid £3.99 the UK express shipping (just a pound more than UK Standard). The polish arrived promptly after 2 days and overall my shopping experience was great and I would highly recommend them.
Will you be picking up No More Waity Katie? or sticking to the more traditional commemorative plates and tea towels?