Move over crackle polish, there's a new kid on the block claiming to be the lastest innovation in nail art....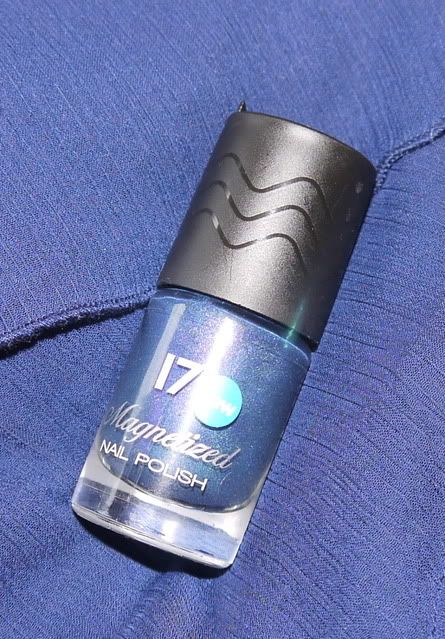 This time its Boots own brand 17, this is Magnetized Blue from their new collection of 4 autumnal shades.
I can't help but compare this to the Nails Inc ones. The bottle is almost identical from the detachable lid to the lip on the magnet to prevent smudges, they both even incorporate chevrons into its lid design. But Boots 17 have more colours, there is purple, blue, grey and green to choose from. Its more accessible and at just £4.99 a lot cheaper (normal price will be£5.99) So I have been patiently waiting for my local boots to get them in stock, I'm actually still waiting, I caved and traveled into my local city to pick one up!
I first tried this out as soon as I got home, and wasn't impressed so the polish was pushed to the back of my collection and forgotten about. It may have something to do with the fact I painted it over Designer De Better from the OPI Muppet's collection, who knows? So today after I had taken off my previous mani I thought I'd give it another whirl. I must say I wasn't expecting to love the effect as much as I do!
This time I used no base coat, the polish itself is easy to apply, thick, creamy and only one coat was needed for opacity. The colour is a gorgeous steel blue, in the bottle it appears to have a deep violet/navy duo chrome, this is the colour that the magnet will draw out. It dries a little bit matt (was I the only one to find this??) but a good old coat of Seche Vite will fix that and give a wonderful glossy finish.
Doing one nail at a time and following the instructions religiously this is the effect I was left with.
and I'm in love! tiger-like stripes with a 3d effect, think eyes in a creepy painting that appear to follow you around the room! awesome!
I did find that the magnet can lift the polish slightly, but because you are manipulating the nail polish while it is still wet it doesn't heart, and a good top coat will smooth things out.
Have you tried magnetic nail varnish yet?
I think I will be popping to Boots on my lunch break to pick up some more colours!
xoxo