If you follow me on twitter you will have
undoubtedly
heard me droning on about holiday planning, Paris and dresses, if not! well this post is for you.
I'll be quite honest, I've never quite got the
allure
of Paris and I don't like the Eiffel Tower or the people that will approach you on the streets to attempt to weave a bracelet around your wrist (if
you've
ever been you will know what I'm talking about). But I can't deny the city does have a certain charm and I can hear it calling my name, it may just be
Laduree
its hard to tell ;-)
So something in me must have changed, while shopping for cute summer dresses online (the spring/summer stock is yet to hit the UK shops) I came across these gorgeous creations from the amazingly talented and beautiful
Bernie Dexter
parisienne1.5" width="500">
parisienne2.5" width="500">
Heres
some close ups of the dresses and the prints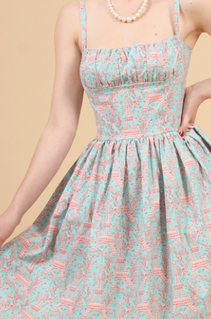 Photobucket">
Photobucket">
Photobucket">
I am in love!!
and look at these fab wedges to team them with in the evenings ...
Photobucket">
Can't wait to be back in Paris.
£55 - clarks.co.uk
£28 - brolliesgalore.co.uk
£8.80 - amazon.co.uk
£38 - monsoon.co.uk
£22 - accessorize.com