I'm sure it will come as no surprise to you that I love Swarovski, there is no other way to put it. and who wouldn't?
This month Swarovski launches their debut fragrance
Aura by Swarovski
. This is something I have been looking forward to since it was announced back in December, and today I finally got my hands on a bottle.
The fragrance itself is quite unique, its fresh and feminine with fruity notes of lychee, floral white tuberose and pink pepper. Its not an overpowering scent and is perfectly balanced to have staying power on the skin. A perfect summer fragrance.
I can see this becoming part of my permanent perfume collection as up until now I have not found my "signature" summer scent. Aura will take pride of place along side my Armani Code, Jean Paul Gaultier and Marc Jacobs Lola.
The bottle design is gorgeous and everything you would come to expect from Swarovski, each one is topped with a Swarovski crystal making it feel very expensive and sumptuous. The perfume is a beautiful feminine rosie pink of set with the juxtaposition of its metal casing. It would look fabulous on a vanity or shelf, definitely a bottle to show off!
"
I wanted to create an object that is
timeless
, something which could have been in a
palace in Vienna
at the beginning of the last century, or could be the focal point in a modern loft in New York, or could be featured in a
futuristic movie
. This creation had to represent these types of
simplicity
, of
obviousness
, as well as a strong character that is
unique
and immediately recognizable.
Gwenaël NICOLAS, Designer of the Aura by Swarovski bottle, Curiosity Agency, Japan"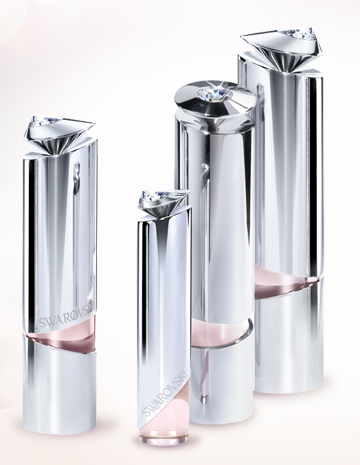 Aura by Swarovski and Make Up Jewels are available from Selfridges Boots and Debenhams in the UK and Prices Start from £44 for 30 ml - £71 for 75 ml and you can order a free sample card of the fragrance here
Will you be trying this fragrance? what scents would you recommend for summer?