#OrangeOctober
Day 8
Today I have a long discontinued product, which i have been longing to try for forever and a product that deserves lots of photos to show its beauty (you can expect photo overload in this post)!
This is Sally Hansen Nail Prisms in Coral Amber (#12), despite its name, I've included it in
#OrangeOctober
because of its colour shifting ability, and on my skin tone at least, I would class this shade as a tangerine orange.
I've checked out other blogs and reviews on this polish, mine doesn't appear to be as holographic as some, it has flecks that pick up the light, but it certainly doesn't look anything like
this
or
this
(my bottle is not that pink or holo).
Coral Amber (left) and Mandarin Garnet (right)
Those swatches look to me more like Mandarin Garnet (#28) which in my bottle has visible holographic particles. Maybe my bottles have been labelled incorrectly, who knows? but in any case both polishes are beautiful and unique to my collection.
Application was smooth, this is two coats over Revlon Post Trauma Nail Treatment Base, with one coat of Seche Vite top coat. The formula was a little thin that what I am used to, so there was a little flooding. But apart from that it was good coverage.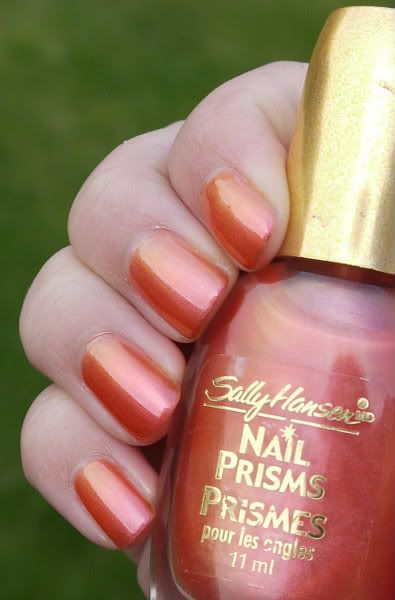 Looks like a glorious sunset on your nails, a beautiful mix of orange and pink with a yellow gold sheen. But under florescent light bright oranges flecks shine like flares.
Have you tried any of the Sally Hansen Nail Prisms? which is your favourite?
Share with me your swatches on
Facebook
and
Twitter
and your blog may be featured here!
xoxo