Day 12
#OrangeOctober
KleanColor Chunky Holo Poppy
KleanColor is a brand I know very little about, it wasn't until I was doing research for a holographic orange polish for
#OrangeOctober
that I had even heard of them. I believe this is an US brand? Made in China and not available on the UK market. After a bit of googling I couldn't resist and ordered these two of off
eBay
and they arrived last week.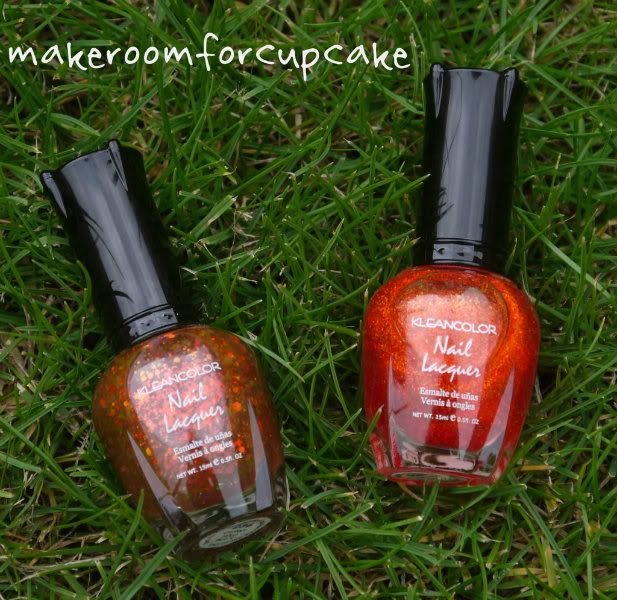 236 Chunky Holo Black and 229 Chunky Holo Poppy. In the bottles they look beautiful, glittery, duo-chrome whats not to like?
A bit more googling led me to this review
Haul of Shame: KleanColor Holo Collection Swatches
over at
Swatch and Learn
. Disappointment set in :( I hadn't realised these glitters were so sheer. These beauties in the bottle don't quite translate to the nail. a base coat was clearly needed.
Collection 2000 came to the rescue with Hip Hop, the perfect juicy orange shade to pear with Poppy.
This is 2 coats of Hip Hop and Poppy.
(sun)
(shade)
As you can see, in some lights this is a very red-dy orange and the duo-chrome effect that you can see in the bottle just doesn't show up on the nails.
Note to self: try Poppy over black.
Have you tried KleanColor polishes? and if so, whats your favourite??
Don't forget you can share your
#OrangeOctober
swatches with me on
Facebook
or
Twitter